Not every Terrytoon made it to TV, for various reasons. This part of the website hopes to document every single one with enough information as possible. Keep in mind several of these cartoons are not avaliable outside of the UCLA archives, so many cannot be presented with key information.
1930
Caviar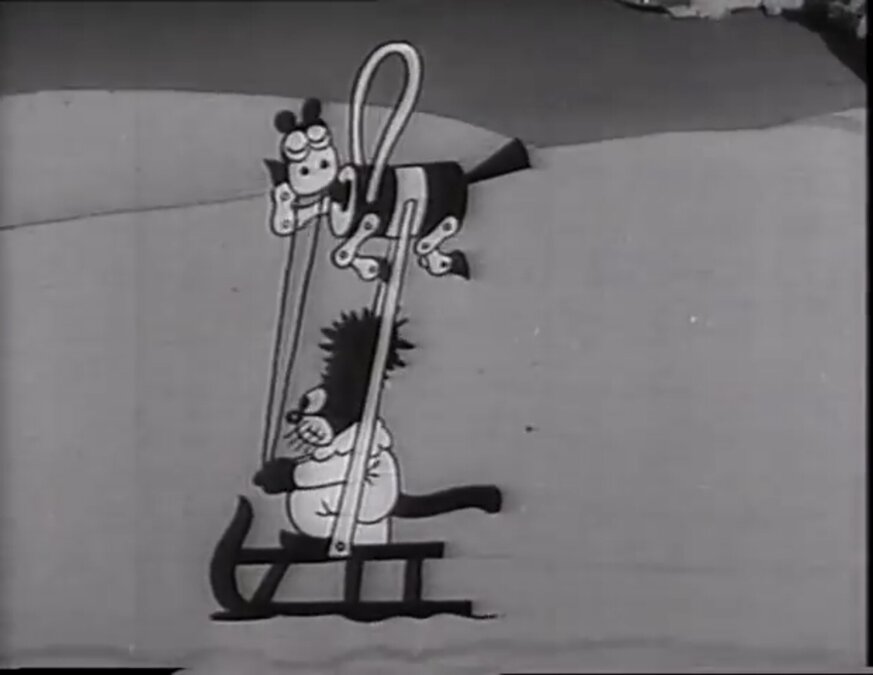 The First Terrytoon release, on Feburary 23rd, 1930, possibly unaired due to Cold War era conflicts, vodka drinking, and slavery. Perserved at the UCLA archives using 35mm negative elements. You can watch the cartoon here from a French print with German subtitles.
Spanish Onions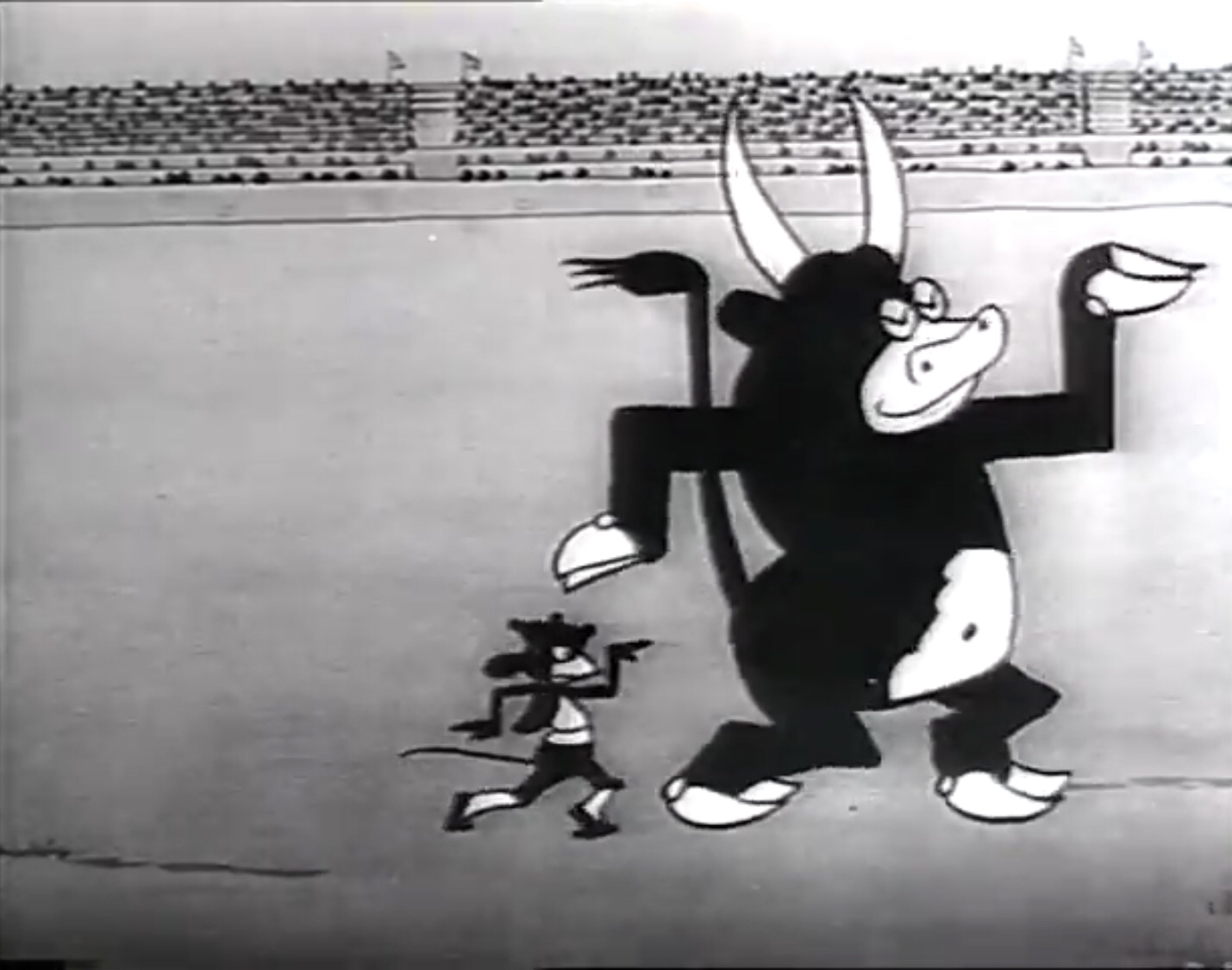 Originally the third Terrytoons release on March 23rd, 1930, though the first produced with the working title "A Spanish Omlet", likely unaired due to the killing of a bull, and the mouse getting his powers from drinking. You can watch the cartoon here from a French print with German subtitles.
Hot Turkey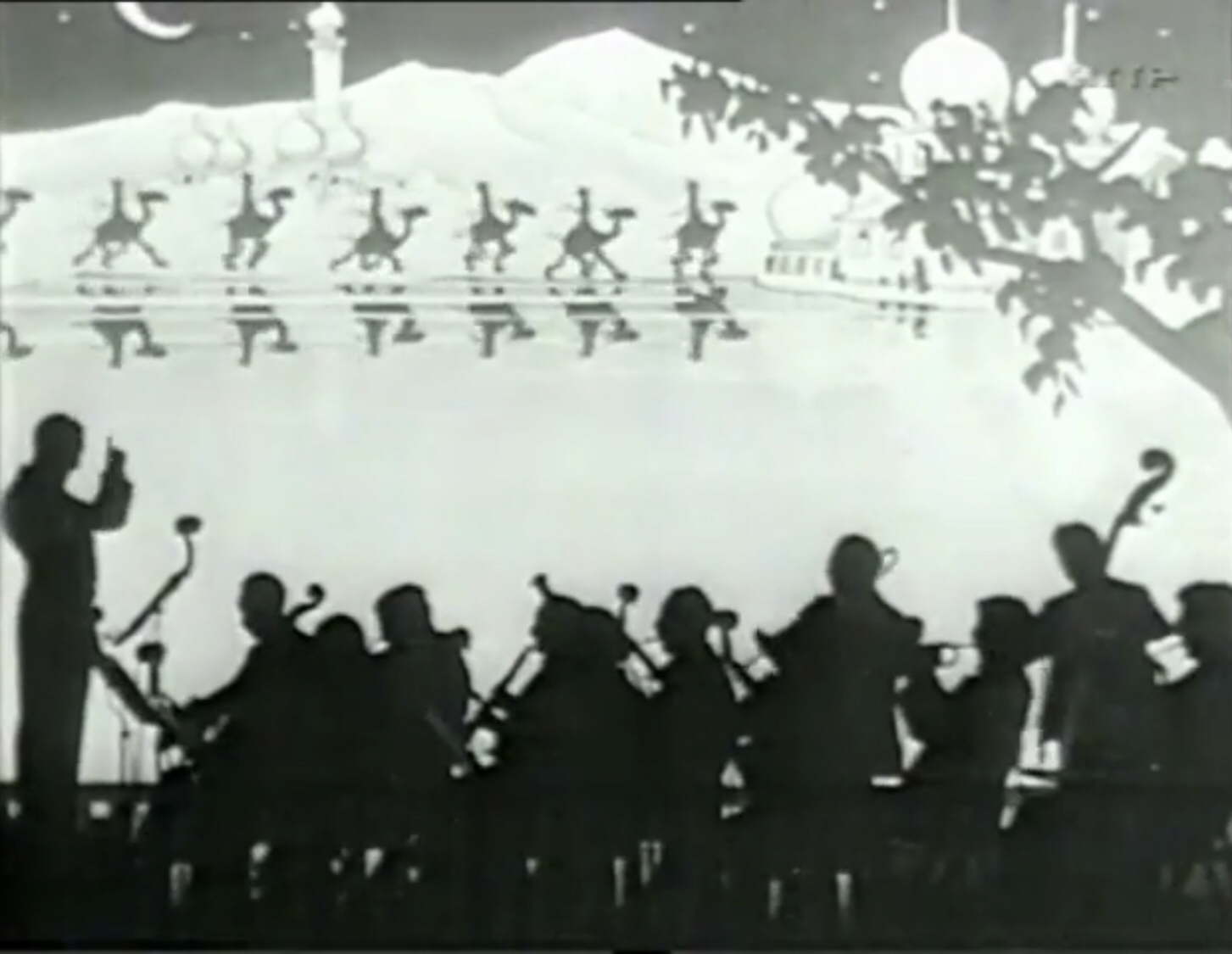 Originally realeased May 4th, 1930. Likely left unaired due to it's depictions of harems and "sexy" mice. You can watch the cartoon here from a French print with German subtitles.
Hawaiian Pineapples
Originally released May 4th, 1930. The last Terrytoon to feature animation by Paul's brother John C. Terry, as he left soon after for not completely known reasons. Possibly left unaired due to hula dancers, implying breastless women. You can watch the cartoon here from a French Print with German subtitles.
Swiss Cheese
First released May 18th, 1930, and not seen since. Earliest Terrytoon to be missing from online circulation, and no copies outside of UCLA are known to exist. Despite being named in plenty of Terrytoons ads and posters, and one review, nothing is known about the content of the film, though it likely took place in the Swiss Alps.
Bully Beef
Originally released July 13th, 1930. A Great War parody common in this period of animation, likely left unaired due to the true horror of the war as well as a few scenes with extreme violence on the soliders. You can watch the cartoon here from a French Print with German subtitles.
Kangaroo Steak
Originally released July 27th, 1930. Like Swiss Cheese, it is also missing in online circulation and no copies outside of UCLA are known to exist. While no little to no information can be uncovered on it, it is known that it likely the last cartoon Paul Terry was a key animator on, plus the name suggests it takes place in the Austrailian Outback.
Chop Suey
Originally released August 24th, 1930. Unaired on CBS due to incredibly racist Chinese stereotypes throughout the cartoon. You can watch the cartoon here from a French Print with German subtitles.
French Fried
Originally released September September 7th, 1930, and was the Terrytoons debut of Paul Terry's longest starring character, Farmer AlFalfa. It is not availible online and currently only exists at UCLA. This short might've been left on the shelves due to the woman attempting to seduce the Farmer in order to steal his stuff. Film Trade Daily called it "Swell" and noted: "A farmer chap similar to the Aesop Fable gent is the leading actor in this cartoon number. The action takes him by airplane to France, where he sports around the town and winds up in a Parisian haunt. As he is putting on a neat Apache dance, some native roughnecks kidnap him, but the farmer is saved by the timely arrival of his faithful dog. Appropriate music and effects help the neat idea along nicely"
Irish Stew
Originally released October 5th, 1930. This cartoon has not surfaced outside of UCLA and is thus key info is not known. All that can be said is that a poster from late 1930/early 1931 used a fiddling cat as a promotional image for the short, and that the film likely took place in Ireland.
Fried Chicken
Originally released October 19th, 1930. While it is not online or circulating outside of UCLA, it was likely kept off TV for depictions of slavery and racial stereotypes of African Americans. A publicly piece with incredibly racist terms allows us to see the story of the short and how the view was viewed and designed.
Salt Water Taffy
Originally released November 30th, 1930. It is not entirely clear why the cartoon wasn't in the TV package, it could've been a lack of material or the drunk bit between the misquitoes. You can find a copy of the cartoon in original theatrical form here
Golf Nuts
Originally released December 14th, 1930. This cartoon was likely kept out of the TV package due to the racist depiction of Chinese people, and the last third taking place in heaven and hell after the protaginst dies. You can find a French copy with German subtitles here
1931
Popcorn
First cartoon of 1931, originally released January 11th, 1931. Likely left unaired due to the extended haunted house scene, though why it wasn't simply edited out is unknown. You can view a 35mm print from Mark Kausler's collection, scanned by Steve Stanchfield here
Quack, Quack
Originally released March 8th, 1931, this cartoon has not circulated outside of UCLA in recent years. It is confirmed to be the first short animation legend Bill Tyla worked on at the studio, having previously worked at Fables with Terry. What's known about the plot is that it was Farmer Al's antics at a visit to the Dentist. It might've been left out due to one layout suggesting devils, but it's also possible it was remade into the later Moans and Groans, which sounds similar. You can view some of the draft and some of the layouts here
Clowning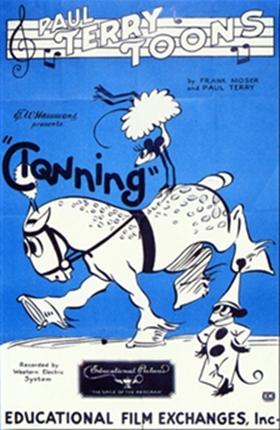 Originally released on April 5th, 1931, this cartoon is not in circulation outside of UCLA. A review in The Film Daily described it as "Neat" and noted the following: "A Paul Terry-Toon in which the hero, as a clown, enters into some romantic adventures and eventually traps the villain in the dungeon of castle and rescues the fair heroine. The cartoon work is picturesque and imaginative, and the accompanying harmonies are in the usual high-grade manner of Philip Scheib's orchestra." It is also the earliest known cartoon (according to David Gerstein) to have a gag involving rabies. In the film, a dog puts shaving cream over his jaw to distract a guard at the circus to let a group of other dogs in! Further information on this one would be much appreciated
Sing Sing Prison
Originally released April 19th, 1931, it has not sufuraced outside of UCLA as of yet. The following review from The Film Daily, who called it a "lively cartoon" and might've incorrectly titled it as "Sing, Sing, Song", gives us from insight: "Done in the modern gangster-picture manner, the animals stage a jail break, and go through many exciting adventures. But the hero and his pal who were the ring-leaders finish in an explosion that blows them right back into the jail yard, in time to join in the chorus of the jolly jail song telling how happy they are to be with their alma mater. The catchy tunes keep this one lively and snappy throughout." Any more information on this one would be much appreciated
The Fireman's Bride
Originally released May 3rd, 1931, no copies currently circulate outside the UCLA archives. A Film Trade Daily review stated:""A Paul Terry-Toon cartoon featuring the hero in the fire department, and rescuing the heroine in his own novel manner from the flames. This is a lively animated, pepped up with a lot of droll antics, with incidental music that heightens the comedy effects. Further information or images on this cartoon would be helpful
The Sultan's Cat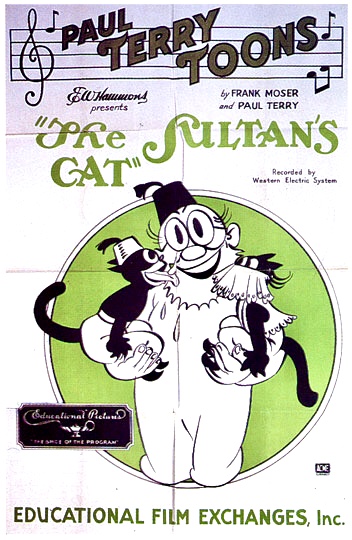 Originally released May 17th, 1931, no copies are online, and your best bet is to visit UCLA and hope to get a screening. Until then, the above poster from Frank Moser and following review from "The Film Daily" should satsify: "This issue in the Paul Terry-Toon cartoon series is cleverly animated and rates among the best of these releases. Terry on this occasion has cast old Farmer Al in the role of the Sultan, who when his sleep is disturbed by his romantic cat, heaves puss into a well. Al returns to slumberland, and it is at this point that the versatility of Terry's pen is revealed, as it takes friend Sultan for a crazy nightmare ride through the spirit world with many humorous situations being evolved. Incidental music and sound effects are effectively introduced." Further information on this one would be much appreciated.
A Day to Live
Originally released May 31st, 1931. No information, images, or reviews could be found on this cartoon as of yet. Can anyone give anymore information on this one? It would be much help
2000 B.C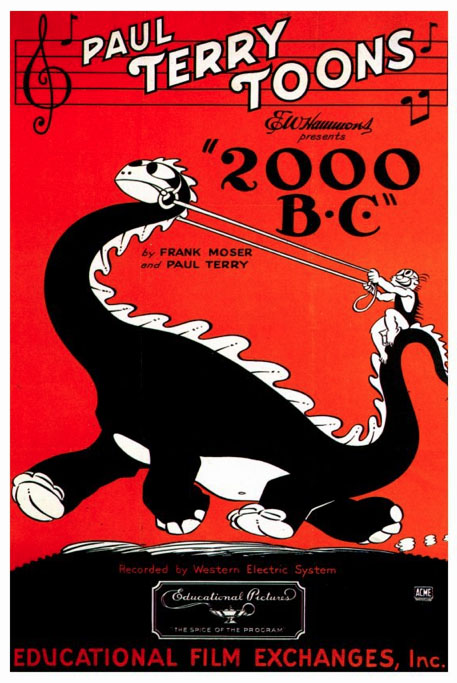 Originally released June 14th, and starred Farmer Alfalfa. One of the more "famous" Terrytoons not in circulation due to the poster being heavily shown online, and the original draft existing at Museum of Modern Arts in NYC. Film Daily called it "Nice" and published the following review: "A Paul Terry-Toon, with the locale placed 'way back in the prehistoric period, and the Adam and Eve stuff being pulled a la the Stone Age. The loving couple make love to each other with rocks, with little love words carved on them, such as the German "Fur Mich" (for me). And when Romeo gets that rock love note, he knows he has had something. It's lively, with good cartoon gags, and done with appropriate incidental music and sound effects." Among other things, it's known that it features the same "jungle girl" as Farmer Alfalfa's Ape Girl, and also ends with them getting married at the end.
Blues
Originally released June 28th, and no copies circulate outside of UCLA. Film Daily called it a "Novelty: and noted: "Terry-Toon cartoon, with darkies as the animated figures, doing a typical Alabama Blues. The boy friend hotfoots it back to his mammy in the sunny south, with all the typical darky atmosphere and the syncopated jazz as musical accompaniment. A variation on the animal routine that should be somewhat of a novelty in the cartoon field." As you can tell, it was clearly not aired due to heavy racial stereotyping
Her First Egg
Originally released July 26th, 1931, and today has not circulated outside of UCLA. A review from the Film Daily papers called it "lively" and said:"A Paul Terry-Toon cartoon, being a barnyard fable of the hen who hatched her first egg, and then all the barnyard folks held a festival in her honor. But a flock of hawks swoop down and steal the chicken, and then the hero gets into action with his airplane and defeats the marauders single handed. Lively cartoon gags with good incidental music". Any additional photos or information would be appreciated
Jazz Mad
Originally released August 9th. Most likely left out of the TV packages due it's depictions of dead animal meat and skeletons throughout the final third. You can view the original theatrical print here
Around the World
Originally released October 4th. No information or prints could be found on this cartoon, any information or photos that can be provided would be much helpful
Jingle Bells
Originally released October 18th. A Film Daily review said it had "good burlesque" along with: "This Paul Terry-Toon is a clever burlesque on grand opera, with the hero rescuing his girl from the villain who has imprisoned her in the dungeon of the castle. As villain and hero battle, they stop in the midst of their scrap to warble the tenor and basso, while the heroine kicks in with her soprano." Further information and images would be appreciated
The Black Spider
Originally released November 1st. No copies of this cartoon are known to exist outside of UCLA. The first of three cartoons to feature the "black spider" title character, further appearing in "The Spider Talks" and "Bluebeard's Brother". Film Daily said it was a "class cartoon", and further stated: "At last they have made a cartoon in this Paul Terry-Toon that gets away from the routine of the musical stereotyped stuff that has been dished up so monotonously for months. Here there is a clever idea worked out with a lot of animated technique that in spots is beautiful and artistic. The Spider is a terrifying creature who invades the castle, imprisons the king, and disguises himself in his clothes so he can pursue his designs upon the king's fair daughter. The cartoon conceit is handled with fine imagination and ranks 'way above the average current cartoon." Further information and photos on this one would be much appreciated!
China
Originally released November 15th, this cartoon has not circulated outside of UCLA as of yet, and most likely not aired due to heavy racial stereotypes. Film Daily noted it was "average" and explained: "A fanciful adventure in the land of the pigtails by Hero Mouse, in which they drag in all the well known legends associated with the country. The cartoon work is up to average, but like all the current crop of animateds, there is a sameness about the technical treatment. Some day one of these cartoon artists is going to hit on a new idea, and it will be possible for us reviewers to tell you something definite about them." Additional information and photos would be appreciated
The Lorelei
Originally released November 29th. Not aired due to the theme around German brewery and the second half having too much of an alcoholic theme. You can find an original theatrical print here
Summertime
Originally released December 13th. No prints circulate outside UCLA for now. No information, photos, or reviews can be presented for now. Any information or photos would be appreciated
1932